You Are Enough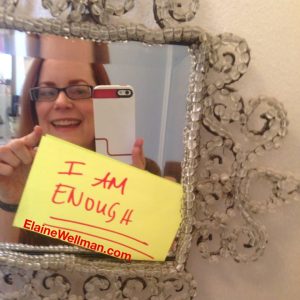 "I am enough."
This is what I see as I glance in the bathroom mirror.
Wow, that feels … good.
It feels … different.
It feels different because if I am honest, this isn't what I typically say to myself.
Are you the same way?
Try this simple experiment and see if you start feeling different about yourself.
More hopeful.
More confident.
Happier.
Gentler on yourself.
The You Are Enough Experiment
Get a bright colored piece of paper, index card or Post It note (so that it really stands out).
Use a bold colored marker, like a Sharpie.
Write "I AM ENOUGH" on the paper.
Place in a prominent spot so you see it often.
Bonus Points: make several of these.
When you see the message, take it in.
Observe how you feel over the next few days.
Here's a two-minute video on this …
Let me know what happens when you do this! Please come back and tell me in the comments. I'd also love to hear what practices you have to remind yourself how amazing you are. 
The following two tabs change content below.
Elaine Wellman
Elaine's mission is to help you create and live your dream life, on your terms. Emerging Entrepreneurs, you can turn your passion into profits and live the freedom-based lifestyle you crave. Elaine will guide you through her process of discovery that will connect your most inner desires, strengths, and values with a money-making niche and business model. Bold gals learn Elaine's methods to navigate through the mindset, messaging, and marketing elements that often feel complicated and slow your progress. Elaine streamlines the marketing process essential for quick and sustained success. Elaine is a Certified Professional Coach and Award-Winning Publicist. She spent more than 20 years as a public relations executive and event producer in New York City before founding her coaching business.
Click here
to join Elaine's private Facebook group - HABIT JUNKIES.
Latest posts by Elaine Wellman (see all)