The Liberated Woman Podcast with Amber Chalus
BECOME A HABIT JUNKIE: WHY YOU NEED TO DITCH THE EMPLOYEE MINDSET TO CREATE THE BUSINESS YOU WANT WITH ELAINE WELLMAN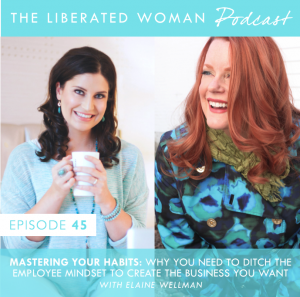 In this episode:
Hear the story of how Elaine started her coaching business but found herself trapped in the employee mindset – keeping from her from really showing up for the people who need her.
Learn why mastering your mindset and creating powerful habits can transform your life and your business – and what's stopping you from getting there.
Discover the history about why women are so damn scared of stepping into their power, using their voice and becoming the change makers they need to be in the world.
Click here to listen to my interview with Amber
The following two tabs change content below.
Elaine Wellman
Elaine's mission is to help you create and live your dream life, on your terms. Emerging Entrepreneurs, you can turn your passion into profits and live the freedom-based lifestyle you crave. Elaine will guide you through her process of discovery that will connect your most inner desires, strengths, and values with a money-making niche and business model. Bold gals learn Elaine's methods to navigate through the mindset, messaging, and marketing elements that often feel complicated and slow your progress. Elaine streamlines the marketing process essential for quick and sustained success. Elaine is a Certified Professional Coach and Award-Winning Publicist. She spent more than 20 years as a public relations executive and event producer in New York City before founding her coaching business.
Click here
to join Elaine's private Facebook group - HABIT JUNKIES.
Latest posts by Elaine Wellman (see all)