Lessons Learned 2015: Intuition, Ice Cream, Introspection
I let go of what I thought I "should" do and do what my soul craves.
Introspection.
It's New Year's Eve and I am supposed to be upstate with friends.
Instead, I am at home cocooning during this fertile time between the holidays.
At home in my PJs, I savor dark chocolate truffles (a gift) and play with my silly kitty, Buddha.
I luxuriate in sleeping late (a rarity for me).
I read Think & Grow Rich.
I exercise.
I color.
I meditate.
I take a bath in Epsom salts,  lavender oil wafting through the air.
I turn toward what I want to create in 2016.
I Desire Map.
I name my word of the year.
I journal.
I finish my Create Your Shining Year workbooks.
I relish this scared time.
I am ready for the new year ahead.
Yet, something is tugging at me.
It's 2015, still not ready to let go of me.
It wants me to see all it taught me.
Oh, 2015, you taught me so much.
I make a list.
One thing I learned is that sharing our discoveries about life can be meaningful for someone.
So, below are some of the things I learned over the last 12 months.
My intention is that this list will inspire you to acknowledge how much you've grown and see your own potential.
Lessons Learned: 2015
I am a spiritual being. I believe in God (as I define God). Yes, I just learned this. You can read more about it here.
Creating habits with a simple system can change my life. Read more about that here.
When I focus on my personal and spiritual growth, my business expands.
When I commit to a daily practice that feeds my soul, it's easy to get up early.
It is possible to feel gratitude while witnessing a parent leave this world with grace, love and strength, ready to reconnect with his soul mate.
Gratitude really does make me happier.
Taking time in the morning to start my day consciously, and in the evening to set intentions, has a huge impact on my motivation and state of mind.
I prefer to read a juicy book than watch television, most of the time. Some of my recent favorite picks are here.
Tuning out the noise and chaos around me allows me to focus and grow.
When I listen to my intuition, miracles happen.
Networking doesn't suck. Maybe I'll even like it one day.
I can let go of long-held beliefs and behaviors that don't serve me.
I feel better when I move my body regularly.
Rushing to market may not create the results I strive for.
I can remember my dreams and they provide a lot of insight.
I can survive without ice cream.
The only way for me to not eat (all the) ice cream is to not have it in the house because I'm an "abstainer."
I'm a very good speaker.
I do best when I'm part of a supportive business community and that impacts the success of my business.
Planning makes things happen. (I knew this yet I've taken it to a new level.)
When I don't push so hard, I fall into flow.
Thank you 2015 for all you've taught me.
And, how you positioned me to head into 2016 a more powerful woman.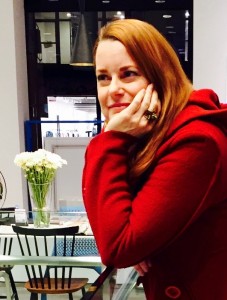 Grounded in my daily practice…
Addicted to maintaining, and creating more, healthy habits…
Excited to see how my newfound spirituality will show up in my business (I already have new programs brewing that are super juicy)…
Committed to expanding my reach and serving more women through speaking…
Determined to come out of my shell (I'm an Aries with Cancer rising) and fall in love with networking…
… 2015 was a true gift.
The year of my first spiritual awakening.
2015 changed me at my core.
My daily practice, habit addiction, self-care, and soul-searching keep my tank full.
I am taking a gutsy leap and stepping into my power as a spiritual business leader.
I am ready now.
Bring it on 2016!
What lessons did 2015 gift you with?
Please comment below and share your wisdom.
You never know who or how you influence. 
The following two tabs change content below.
Elaine Wellman
Elaine's mission is to help you create and live your dream life, on your terms. Emerging Entrepreneurs, you can turn your passion into profits and live the freedom-based lifestyle you crave. Elaine will guide you through her process of discovery that will connect your most inner desires, strengths, and values with a money-making niche and business model. Bold gals learn Elaine's methods to navigate through the mindset, messaging, and marketing elements that often feel complicated and slow your progress. Elaine streamlines the marketing process essential for quick and sustained success. Elaine is a Certified Professional Coach and Award-Winning Publicist. She spent more than 20 years as a public relations executive and event producer in New York City before founding her coaching business.
Click here
to join Elaine's private Facebook group - HABIT JUNKIES.
Latest posts by Elaine Wellman (see all)