How Being Hopeful – Even About Yahtzee – Can Boost Your Biz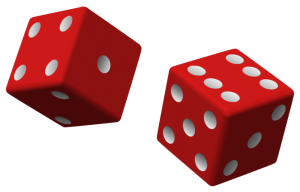 Are you hopeful?
A dear friend of mine recently proclaimed that playing Yahtzee, the classic family dice game much like poker, made him feel more hopeful about the future.
Wow. I was intrigued. It made me start thinking about hope. And I wanted to understand how such a simple act could carry such power for him.
He explained that when he needs a six to complete a large straight, two fours to get a full house, or is going for the Holy Grail – a YAHTZEE (five of a kind) – it can really seem impossible.
But when he rolls what he needs to get that score, it reminds him that what may seem impossible and unattainable is in fact quite achievable.  It makes him more HOPEFUL.
What a great outlook! Who would have thought that playing a simple, classic game could instill hope. Such an easy way to remind yourself that your dreams and goals are in fact … doable.
Hope can be a powerful tool to help propel us forward to achieve our goals. Entrepreneurs must have hope to even get their businesses off the ground.
Worry however can quickly set in. Worry about money. Worry about clients. Worry about time.
But by holding onto and cultivating hope, you can actually diminish the worry.
Cultivate hope by committing to your goals, practicing gratitude, choosing to focus on positive thoughts about your business, surrounding yourself with hopeful, successful people, and trusting the universe.
And by determining what your YAHTZEE is. What activity makes you feel hopeful and powerful?
What business or life possibilities might open up to you with more hope? What would be unleashed if you stopped worrying about money?
Please share below.
xo,

The following two tabs change content below.
Elaine Wellman
Elaine's mission is to help you create and live your dream life, on your terms. Emerging Entrepreneurs, you can turn your passion into profits and live the freedom-based lifestyle you crave. Elaine will guide you through her process of discovery that will connect your most inner desires, strengths, and values with a money-making niche and business model. Bold gals learn Elaine's methods to navigate through the mindset, messaging, and marketing elements that often feel complicated and slow your progress. Elaine streamlines the marketing process essential for quick and sustained success. Elaine is a Certified Professional Coach and Award-Winning Publicist. She spent more than 20 years as a public relations executive and event producer in New York City before founding her coaching business.
Click here
to join Elaine's private Facebook group - HABIT JUNKIES.
Latest posts by Elaine Wellman (see all)